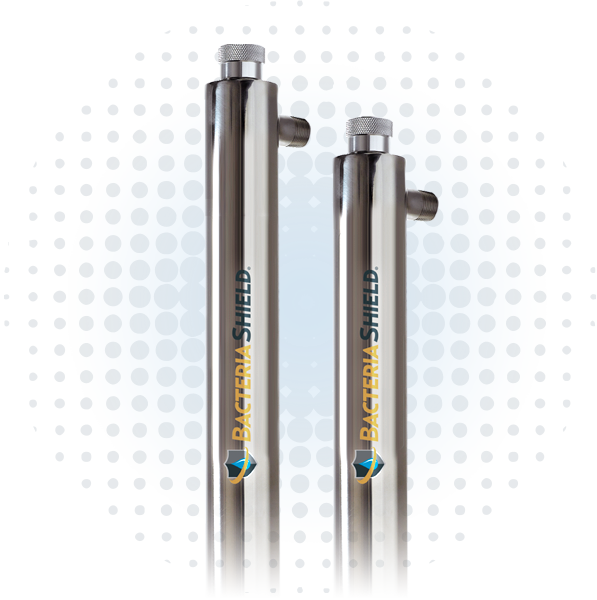 BacteriaShield UV
Whole house water disinfection system for bacteria
Protect your family from harmful bacteria leaching into your home's water with BacteriaShield Whole House Water Disinfection System.

Up to 34% of All Private Wells Test Positive for E. Coli or Total Coliform Bacteria. (Source)
City water can also be contaminated at either the source or on the way to your home. Some microscopic pathogens can even survive commonly applied disinfectants that are used in private wells or used by water treatment plants.
BacteriaShield UV Whole House Disinfectant System is an effective, non-chemical solution for reducing bacteria, viruses, cysts and other pathogens by 99.1% to 99.9%. BacteriaShield UV uses a targeted range of ultraviolet light (UV) to inactivate harmful pathogens before they can enter your home.
Protects Your Family
Non-chemical solution for reducing bacteria, viruses, cysts and other pathogens by 99.1% to 99.9%.
Low Maintenance
No filters to change, no chemicals to add, and safe for septic systems, plumbing and appliances
Eco-Friendly
Efficient no-regeneration design conserves water, and does not require adding harmful chemicals to water.
Efficient Design
Attractive high-quality stainless steel housing comes in multiple size options to best fit your home's water needs.
Bulb Status Alerts
Get peace of mind with our audio/visual alarm for instant notifications if UV bulb fails or needs replacement.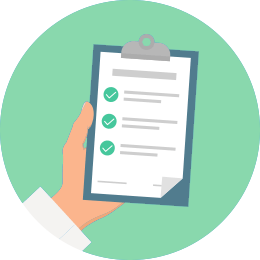 Get Your Free Quote Today!
Great customer service! Was very patient with my questions and provided me with the answers I needed to make an informed decision. Thank you!
Dave B. (Kentucky)
Very helpful and knowledgeable, responsive to my needs, and no high pressure sales. I would highly recommend EasyWater to others.
Gregg O. (Minnesota)
I am very satisfied with my purchase of your system, and all my former problems that I had are a thing of the past. My contact with Chris Friedman was excellent and he handled every thing for me to my complete satisfaction.
Chris G. (Ohio)
I purchased a UV light for my water system about a year ago. Easy peasy! Good company, friendly staff, fast shipping and more. Highly recommend!
Harry D. (Arizona)
Excellent service by an excellent representative. I have nothing but great things to say about the company, water systems, installation and service.
Shirley S. (Texas)
Everything was shipped in a timely manner and equipment has been working as promised by Bryce. He has been very helpful and returned phone calls promptly. Would highly recommend this equipment.
George P. (New York)
From first contact until system was installed the customer service was excellent. Always my questions were answered. It has been about six months I think. So great job thank you
Connie G. (Maryland)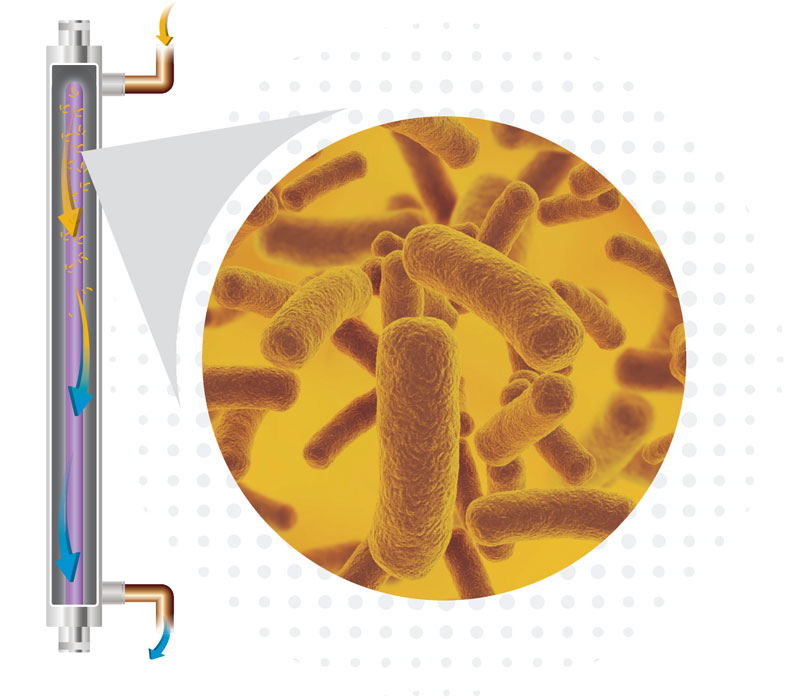 Learn How BacteriaShield Works
BacteriaShield UV is installed at your water main, to ensure complete home protection. Water flows through high-quality stainless steel housing, exposing the water to UV light. This treatment of deactivating bacteria, viruses, cysts and other pathogens has an impressive effectiveness of 99.1% to 99.9%.
BacteriaShield UV is the perfect solution to areas prone to bacteria in water, such as private well, community well, cistern, lake water source, city water source with older water lines, or if you have other concerns about contamination of your water.
If you're having issues with bacterial iron, commonly found in the back of the toilet tank, we recommend disinfecting with our IronShield Max Whole House Water Filtration System. In addition to our proprietary GX7 media, IronShield MAX integrates a hydrogen peroxide injection.
Have a question about your water? Give us a call at 1-888-766-7258, or fill out the quote form below, so one of our water experts can help.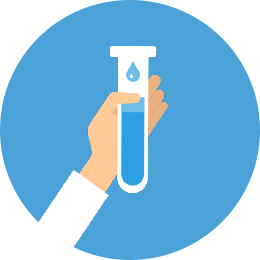 Want a Free Water Quality Test ?
Need Help with Other Water Problems?
We offer a wide variety of products to solve most water problems. To learn more, please fill out our quote form or call us at 1-888-766-7258 so we can help.
Get A Free Quote
Call us today at 1-888-766-7258, or fill out the form below, to get a free quote for your water solutions.