Stop Lifting Salt Bags.
Start treating your hard water with our innovative No-Salt Conditioner.
So Long, Smelly Water.
IronShield is your answer to well water odors, staining, bad taste and toxins.
What's in Your Water?
Find out more about the common problems impacting city and well water.
Your Water Solutions Guide
Step 1: Select Water Type
Step 2: Select Water Problems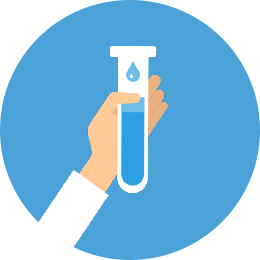 Want a Free Water Quality Test ?
I have had my water softener for 3 and 1/2 months now and is working great. I had to reprogram because it did not regenerate at first, but that was pretty simple to do with help from the company.
Dennis F (Texas)
Your water softener was installed yesterday. I was very pleased to have it done. I am also pleased with the plumber you chose to install the equipment. He stated that he would install the same system in his own home.
Joseph S. (Michigan)
Easy Water is a great solution to having something other than a water softener. I am so relieved to not have to buy salt, lug it home, and put in a water softener.
Mary V. (Indiana)
I installed a ToxinShield Plus 1000 and have been absolutely THRILLED with the results. NO MORE CHLORINE TASTE - not even an odor! The water from any faucet in the house is great to drink, and even the coffee is better. I would do this again without hesitation.
Sanford Y. (Oklahoma)
My wife and I have 6 kids and we prefer to push water over pop, which we never buy. We drink a ton of water. This system makes our water taste really good. I mean it's really refreshing. This system should come standard with every house!
Travis H. (Indiana)
Great customer service! Was very patient with my questions and provided me with the answers I needed to make an informed decision. Thank you!
Dave B. (Kentucky)
I enjoy my system and knowing that there is no hauling of salt pellets and dumping into a softener system. My water is more soft and refreshing with out the salt or smell of salt.
Deb M. (Minnesota)
Excellent and professional. They called me to remind me I was due for new cartridges. Paid for them and them in 3 days. Great to due business with.
Kevin S. (West Virginia)
Very helpful and knowledgeable, responsive to my needs, and no high pressure sales. I would highly recommend EasyWater to others.
Gregg O. (Minnesota)
I am very satisfied with my purchase of your system, and all my former problems that I had are a thing of the past. My contact with Chris Friedman was excellent and he handled every thing for me to my complete satisfaction.
Chris G. (Ohio)
Get A Free Quote
Call us today at 1-888-766-7258, or fill out the form below, to get a free quote for your water solutions.