An innovative and natural solution for removing iron, odors (H
Are you adding salt or chemicals to your water to remove iron or are you experiencing orange staining or water that smells like rotten eggs? Iron Shield offers an innovative and natural solution for removing iron, rotten-egg odors, tannins and manganese. Instead of using salt or chemicals, Iron Shield uses natural air and a proprietary filtration media to eliminate these issues in well water.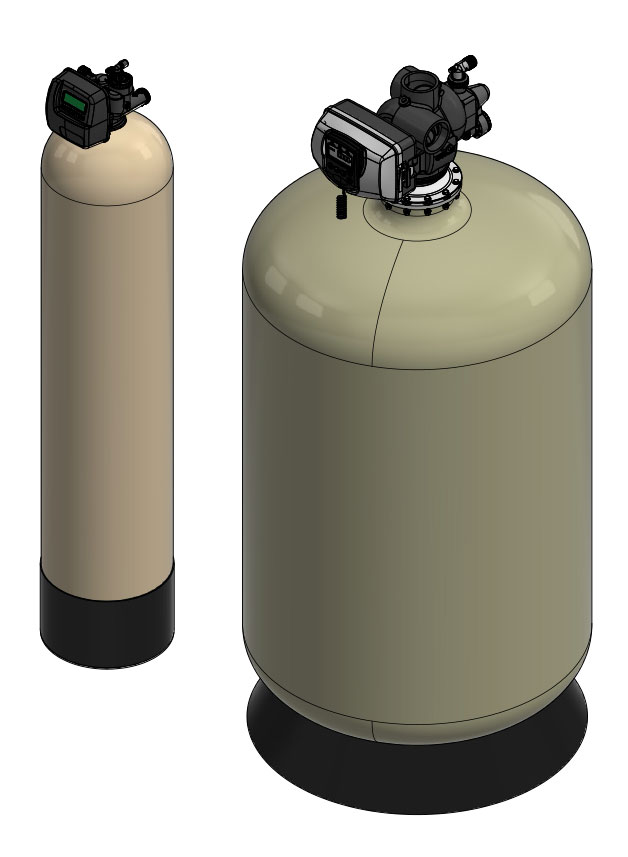 IronShield Features & Benefits
Engineered Filtration Media

Removes up to 20ppm of combined iron, manganese, H2S, and tannins at pH as low as 5.8
Filtration of sediment, dirt particles and sand down to 3 microns
Light weight media requires less backwash time and flow thereby using less water during regeneration
Natural media uses no chemicals and produces no disinfection byproducts
Low Maintenance
No salt or chemicals to add, no filter cartridges to change
Long-life filtration media lasts up to 10 years
Environmentally Friendly
No harmful contaminants are added to the environment
Uses only air and water to regenerate, instead of chemicals or salt
Proprietary filtration media blend is all-natural and long-lasting
How IronShield Treats Iron & Other Organics
In-Service: Untreated water enters the filter. Iron and other organics are trapped in the natural media while dissolved oxygen is added
Backwash: Upward flow of water lifts the filter bed, removing trapped iron and organics, and increasing the life of the media
Regeneration: Air injection system naturally regenerates the media without the use of chemicals
Fast Rinse: Filter bed is packed down to prepare for the next filtration cycle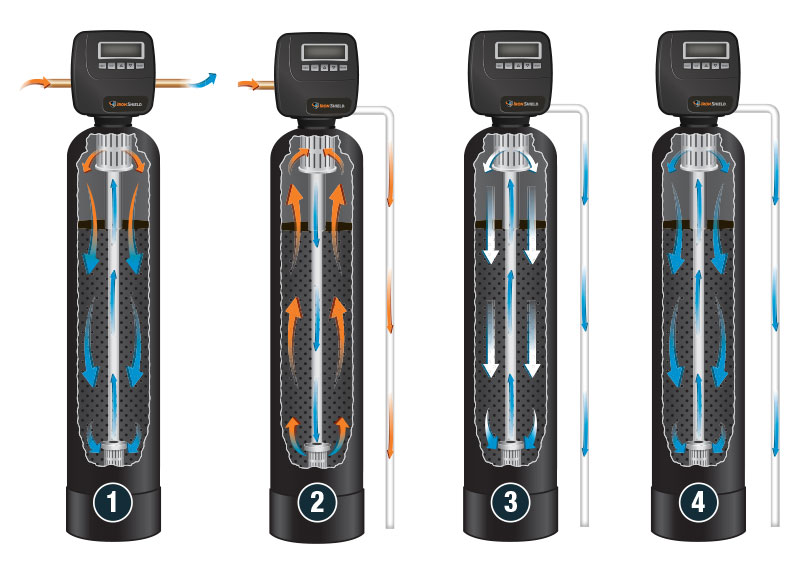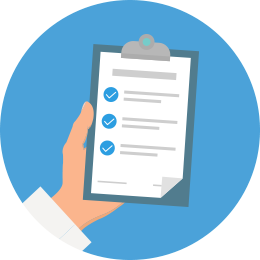 Need a quick quote for a project?
IronShield Literature Downloads
Sales Product Sheet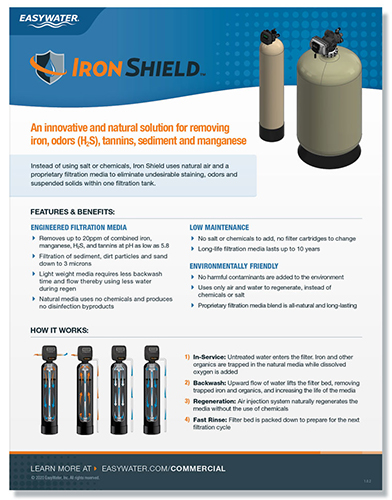 Contact us for additional documentation such as manuals and drawings.
Call 1-888-766-7258 or use the quote form below to connect with one of our commercial / industrial water experts.
Request A Quote
Call us today at 1-888-766-7258, or fill out the form below to get a quote for your project.
(Need a residential quote? Click Here)